Winter getaways seem to be the topic of conversation more than ever this year. I don't know about you, but I have become desperate to unplug from the world on weekends, and being near the ocean has been my saving grace.
A few weeks ago, we started discussing a possible winter trip to Martha's Vineyard. We craved being on a boat, hiking, good food and wine, and quiet, and we knew that we could find all of that close to home on MV.
As fate might have it, just a couple of days after that discussion, I received an email from the owners of the Nobnocket Boutique Inn on Martha's Vineyard, inviting us to come and stay for a Valentine's getaway. The timing was absolutely perfect, and after swooning over the inn's website photos, we were soon counting down the days until we left Woods Hole for Martha's Vineyard.
One major perk of visiting Martha's Vineyard off-season? We left mid-day on Friday and hit absolutely no traffic. The ferry was fairly empty, and the entire trip was a breeze. Once we drove off the ferry in Vineyard Haven, it was about two minutes to Nobnocket. Vineyard Haven's adorable town center is easy walking distance from the inn, and you'll likely encounter a few dozen turkeys along the way!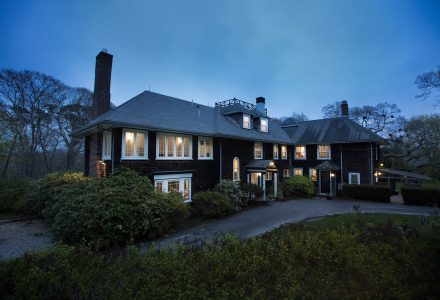 Photo via Nobnocket Boutique Inn website
Upon our arrival, we were welcomed with offers of coffee, tea, water, wine, and we chose tea, which we enjoyed while chatting with inn owners Annabelle and Simon.
The common areas of the inn are welcoming and cozy, and, like the rest of the property, decorated with beautiful little details everywhere you turn.
The breakfast room is also an all-day oasis, with coffee and tea, cold drinks, filtered water, snacks, and a few nightcap options.
The surroundings are just as lovely as the inside of the inn. A fresh snow on the island made things just a bit more sparkly, and the trees, including massive holly trees, brought a nice touch of natural beauty right up to the doors of the inn. Another perk of winter? The trees aren't grown in, and you can easily see the harbor in the distance.
Also, the turkeys! Who knew that Martha's Vineyard had SO many turkeys?
Before settling into our room, we toured the other guest rooms, each delightfully appointed with its own unique details. The above room is as it was in the original home, with details like a brick fireplace and lots of beautiful dark wood that has been lovingly treated, giving it a more lodge-y, masculine look than the others.
Rooms upstairs are bright and sunny, each with its own color scheme that's perfectly woven throughout. I appreciate an eye for detail like this immensely; I certainly don't have it! Throughout the weekend we continuously pointed out little details that we hadn't noticed earlier.
In our luxurious yellow-and-black room, even the beer opener was yellow!
Nobnocket Boutique Inn has managed to perfectly blend chic design and clean lines with beachy coziness, making every space feel warm, welcoming, and relaxing. Our room was no exception, with a plush and comfy bed, lots of pillows, bathrobes, slippers, a fireplace, and a bathroom that was to-die-for.
How amazing is this tub? What I didn't capture is the flat-screen TV on the wall behind it. I love a good, super hot soak more than anything, and I am surprised I left that space all weekend long.
Attention to detail extended beyond design and into every aspect of the day,  from turndown to turndown.
On our first night we were greeted with homemade lemon cookies (which I knew about from their Instagram post earlier in the day!) And yes, we turned in for the night by 8:08 on our first night.
Breakfasts were works of art. On our first day, yogurt parfaits, poached eggs, bacon, and toast started our day.
After a busy day of exploration, we relaxed by the fire with our wonderful hosts and another couple (Hi Matt and Dave!) before dinner. . .
And when we arrived back home were greeted by the most decadently delicious chocolate chip cookies and chocolate covered strawberries. To.die.for.
The next morning there was more breakfast art; a bento box of yogurt and fruit, flaky homemade sausage rolls, local baguette and scones, and the best ginger pear marmalade from New Lane Sundries.
We were thoroughly spoiled with treats, comfy spaces, and lots of laughs throughout the weekend, and it wasn't easy to leave. If you're craving a relaxing getaway, keep Nobnocket Boutique Inn at top of mind. Their specials and packages page is a great place to start!
More on Martha's Vineyard in the winter to come. . .
Our stay was generously hosted by the inn. All opinions are my own. Thank you again to Annabelle and Simon for such a fantastic weekend!
Tags: inns, luxury travel, Martha's Vineyard, New England, New England travel, travel blogger, travel. Travel Tuesday