So I totally did something very un-Boston like – I went on a cruise to Spectacle Island and participated in a full on luau!
It was complete with everything you could ever want – except here in Boston.
Hawaii? Who needs it!
I didn't take any pictures really – too busy just enjoying the moment.
But after coming home it got me wondering – what the heck is Spectacle Island?
I mean, I've heard it's name a dozen times, but I just had to do some more research on the island. But first…the luau.
Since I didn't have much to recap, Gourmet Pigs did a great job summarizing it all:
Luau on Spectacle Island
The summary on this other blog, Gourmet Pigs, is much like my own experience. Some highlights:
There's now a sunset cocktail cruise, a brunch cruise , clambake on Spectacle Island, and also a luau on Spectacle Island.
Given the timing of the luau, we also got to watch the sunset over the Boston skyline from Spectacle Island!
A visit to Spectacle Island is a great way to spend a summer day in Boston, and having a pork-filled luau makes it even better.
Spectacle Island (Massachusetts)
Of course, I turned to Wikipedia to get some trusted info on Spectacle Island:
It's only 105 acres, and it's 4 miles off the coast of Boston
The island got bigger with the dumping of trash and dirt, together with subsequent landscaping – ewww
Spectacle Island is now one of the highest points on Boston Harbor
A horse rendering plant was built on Spectacle Island in 1857, followed by a city trash incinerator that remained active until 1935.
Spectacle Island – An Island Retreat Minutes from Boston
This is a pretty good rundown on the island. Some highlights:
A former smallpox quarantine and garbage dump turned into a bucolic retreat for city dwellers…with the help of truckloads of dirt excavated from the Big Dig.
Europeans began using the 100-acre island in the mid-1600s as a source of firewood and, later, a smallpox quarantine.
Thus began a dark time, as the island became the site of a horse rendering plant in 1857 and a garbage incinerator soon after.
Boston Harbor Islands – Cruises, Ferries, Things to Do – Boston Discovery Guide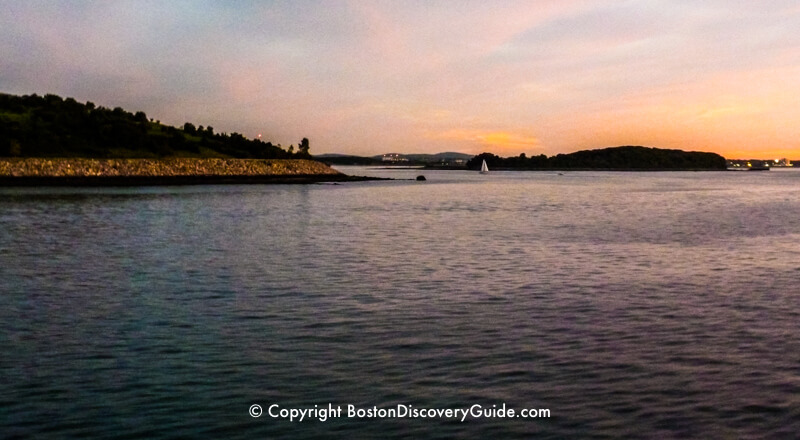 The Boston Discovery Guide highlights some pretty cool things about the Boston Harbor Islands if you're looking for a paid cruise:
This ride lets you see the Boston Harbor Islands and beautiful city skyline views.
Purchase tickets and depart at Long Wharf next to the Long Wharf Marriott Hotel, or check the MBTA website for more information.
Sail to the Harbor Islands Boston Harbor Islands at sunset Several islands – Spectacle, Georges, Gallops, and Peddocks Island
After stopping at Spectacle Island, the Long Wharf ferries continue on to Georges Island, which is also where you can catch the water shuttles to other islands.
Ferry service between Spectacle and Georges Islands is included in the basic fare that you pay at Long Wharf.
Boston Harbor Islands National Recreation Area
The National Park Planner has a great rundown on Spectacle Island:
The fact that it has direct ferry service from Boston's Long Wharf North with multiple boats arriving each day, and that the operating season starts in mid-May and ends at columbus day, providing two more months of service than to most other islands in the park, certainly adds to its popularity.
If you are near Hingham, either take the subway or the MBTA commuter ferry to Boston, then travel from Boston to Spectacle (do the reverse to return home).
Activities on Spectacle Island include hiking, swimming, picnicking, kayaking, and fishing .
Conclusion
All in all, it was awesome to discover a new island right in our own backyard here in Boston. It may not be the most impressive island in the world, but I love learning about the history of small little islands.
When you can't make the trip to Hawaii, bring the luau to your backyard!